INTERNSHIP PRODUCT DESIGN
---
Are you looking for an adventurous, challenging, responsible and fun product design internship in Cambodia?? Are you always curious, eager to learn more and dare to take initiatives? Then Ka-Lai Chan is looking for you!
LOOKING FOR
As from September 1st 2017 I am looking for a motivated product design interns for 5 days per week for a period of 3 months in Siem Reap, Cambodia. We will develop a product collection here together with the local artisans; baskets (weaving). Design for hotels and International design brands.
As an intern you will be involved in almost all activities that happen on daily base. Tasks include brainstorm sessions, sketching and visualize new designs. You will be researching materials and production techniques, prepare and assemble orders, making technical computer drawings, renders, updating website and social media. (No graduation internships. Flight is not compensated.)
Our studio is basically divided in three directions;
1) For MANAVA you will develop rattan products together with me and the local women in the villages. You will learn more about the rattan weaving craft and help them to get a sustainable income.
2) Make technical computer drawings, renders and brainstorming of products for International design brands.
3) You will take part in the whole process of artwork/installations for hotels and restaurants.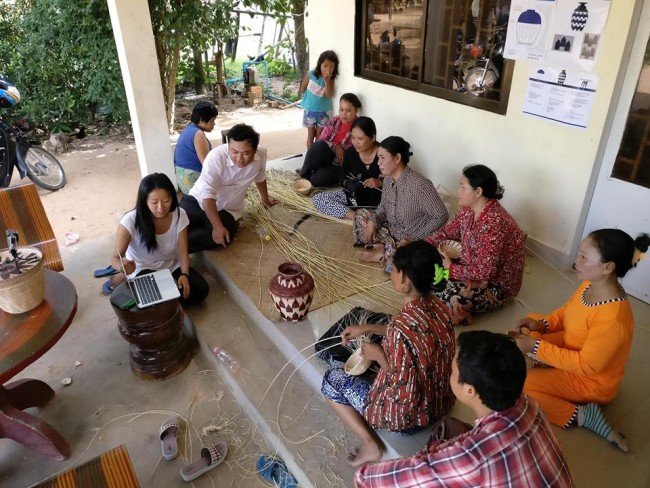 It would be an unique cultural experience in a inspiring surrounding Siem Reap, Cambodia. You will experience and learn how it is to have and how to run a design company on your own in another country. How a project looks like from begin to end etc. Flight is not compensated. Clients: Van Gogh Museum, Puik-Art, Hotel Okura, Kristalia and more.
PROFILE
- At least 3 years of design study
– Working indepent and dare to take initiatives
– Adobe CS, Photoshop, Illustrator, Indesign
– Solid Works, Keyshot (vectorworks, rhino)
– Working with standard (electric) tools and machines
ABOUT KA-LAI CHAN
Ka-Lai Chan is a designstudio specialized in interior products. Sustainability, nature and people are central. She designs for design brands and besides that she creates experiences (products/installations) for hotels, restaurants and companies. She translates stories in functional products. Her work was presented in various galleries, international design fairs and exhibitions in USA, France, Italy and the Netherlands.
PROCEDURE
If you are motivated and you have passion and dedication for crafts, helping people and product design, we would love to hear from you! Send your motivation letter, CV and portfolio to info@kalaichan.nl